@PPF Internet Homestay Report (January 2007)
Following is a report from Ms. Jenny, who experienced the PPF homestay program in January 2007.
---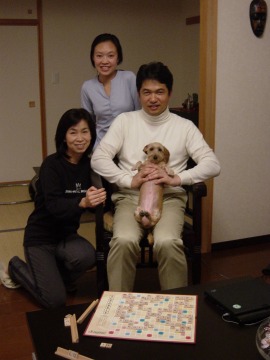 In the summer of 2004, I visited Japan for the first time, traveling down the coast from Tokyo to Fukuoka. It was a spectacular trip full of unforgettable moments. However, unable to intimately converse with natives, I felt like I was merely skimming the surface of what Japan had to offer. Since then, I have been studying Japanese at UC Berkeley for the past two and a half years. I learned about the Pan Pacific Foundation's Homestay Program, and I immediately knew it was a rare opportunity for me to dive deeper into Japanese culture. PPF arranged for me to spend three nights with a family in Chiba Prefecture, and ten nights with a family in Nagano Prefecture. From this experience, I discovered what I had missed out on merely as a tourist.
My homestay (from January 5 − 18, 2007) took place during what would be one of Japan's warmest winters. Arriving not long after New Year's, I caught glimpses of residual festivities throughout my trip: New Year's photo-postcard mailings, bustling temples, and New Year darumas, to name a few. My first host family, the Oigawas, live in Urayasu-shi, Chiba. Like other bedtowns, many of the city's residents take the one-hour train commute to work in Tokyo. Located right by Tokyo Bay, and not far from Tokyo Disneyland, the city consists of relatively recent developments from fancy hotels, residential mansions (Japanese high-rise apartment buildings), and a bustling shopping mall located right by the local train station, Shin-Urayasu Eki. My stay with the Oigawa family coincided with a three-day weekend, including the Japanese national Coming of Age holiday, seijin no hi. It also coincided with the last few days of winter break just before the first day of winter semester. I was particularly fortunate to be able to spend almost all of my time with my host family.
Although I had been studying Japanese, I was well aware of the fact that I was far from fluent. I was a bit nervous about offending my hosts unknowingly, but not long after I arrived I realized how receptive and accommodating they were. I tried my best to communicate as much as possible in Japanese, but I was also able to fall back on the Oigawa's superb English skills. My host family consisted of Y, her husband K, their nine-year-old daughter Y, and their miniature foxhound named M. Their apartment was on one of the top floors of a mansion so it afforded a particularly striking view of Tokyo Bay on sunny mornings.
During my first evening, Y prepared nabe, a one-pot stew of tofu, Chinese cabbage, mochi and other vegetables. The four of us sat down for a quiet Friday evening meal, chatting leisurely and eating out of the same pot as we got to know each other. The next Saturday morning, Y used the leftover dashi from the previous night's nabe to make our breakfast of ojiya, a type of pourage. A storm system was blowing through the region that day, so we spent most of the day indoors. As rain poured down outside, I milled around the apartment and soaked in the atmosphere of their home while the family went about with their own activities. K worked on his computer, while Y did some household cleaning and Y studied in preparation for the start of school. Y also helped me study some Japanese vocabulary and I helped her with her English.
I had many meaningful moments during my stay with the Oigawa family. My conversations with the Oigawa family were particularly insightful. During and after dinner, we talked about numerous topics ranging from current events, international issues, culture, and personal thoughts. I also spent some time shopping at the supermarket with Y during which I inundated her with questions. The almost flawless condition of the fruits and vegetables impressed me. In particular, I was amazed to find individually wrapped celery stalks for sale. One night, they took me out to dinner at a sushi bar, where I was offered whale.

On Sunday, we caught the train to Tokyo where we watched a kabuki show about the legendary story Kanjinsho. For both Y and I, it was our first time watching a live kabuki show. We grabbed the last remaining standing-room spots for the sold-out showing. From the back of the theater, I was able to observe other members of the audience, a mix of locals and foreigners like me. Some older members of the audience shouted out names throughout the show. Y later explained to me that it was a traditional way of showing support for the performers. Later that day, we also watched the final rounds of a sumo tournament. During my last evening, we played a game of Scrabble, which I had brought from home. Despite an obviously unfair advantage, I did not win the game.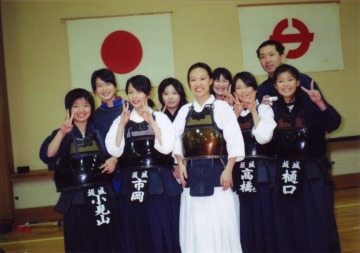 From Urayasu-shi, K traveled with me by the local train to Tokyo Station where I rode the shinkansen to Nagano. From there, I met my second host mother, Emiko, and together we headed to her home in a small town called Chikuma-shi. Their home was a short distance away from small mountain ranges and surrounded by snow-covered rice and vegetable fields. My second host family, the Ito family, grew their own supply of rice each year. I was also surprised to find a local vending machine where people can have their rice de-hulled for a few hundred yen. The vegetables that Emiko's mother, Fumii, had grown and preserved for the winter were delicious.
During my stay in Chikuma-shi, I spent most of my time with Emiko, who introduced me to many people and arranged for me to experience many different aspects of Japanese culture. One of my favorite experiences was when Emiko brought me to her Kumon cram-school class where I had a chance to meet her students and share information about my home in California. I made up a quiz about America, and the students had a blast trying to answer my questions in return for snack prizes. I also practiced English conversations with a couple of students, and I was very impressed by the enthusiasm with which they spoke to me. Emiko also introduced me to her suibokuga (India-ink painting) teacher, who shared some of her works and gave me a quick painting lesson. Another day, I visited an eitegami (picture letter) meeting at the community art center where I had a chance to see their paintings and try creating my own. Emiko also brought me to a shippouyaku (cloisonne´-ware) class where I learned how to create my own pieces. I spent another evening observing a Taiko club practice session and joined in on a couple of rounds. Another evening, I joined a children's Kendo class, where I was taught the three basic moves and had a chance try out a few practice matches. Emiko even arranged for me to spend the day learning how to snowboard with her family friend in Hakuba in the Japanese Alps.
I was thoroughly amazed by all the different people I met and all the new experiences I had while staying in Chikuma-shi. However, the moments I had in the Ito family's home are the ones I treasure most. One evening following dinner, Emiko brought out her brush and sumi-ink and taught me some basic shodou, or calligraphy, techniques. I spent a good amount of time kneeling on their living room floor practicing on old newspapers writing my kanji over and over again. I thoroughly enjoyed it. During other evenings at home, I watched Japanese dramas with Emiko and her daughter Rika. While I didn't have a chance to spend much time with Rika because she was busy with work on most days, I really enjoyed the conversations we had when she returned home from work in the evenings. I probably asked a lot of nai¨ve and mundane questions, but Rika's answers were sincere and thoughtful. Emiko and I spent one evening preparing food to place in bento boxes for lunch the next day. I had seen bento boxes in movies before, but I didn't realize how much effort went into making them. Our bento boxes were filled with smoked salmon and cabbage, deep-friend sweet potatoes, home-grown spinach, egg, fish, and even star-shaped carrots. During one of my final days in Chikuma-shi, I woke in the morning and noticed that snow had fallen during the night. Emiko and her husband Satoru were busy shoveling the driveway and I immediately rushed out to join them. They welcomed me, handed me a shovel, and we cleared the driveway together.
My homestay experience showed me how Japan is much more than the typical guidebook attractions. Getting to know the people in Japan by living in their homes gave me an entirely new perspective on Japanese culture, one that I would have never been able to perceive as a tourist. One of the first concepts I learned while studying Japanese was the concept of in-group and out-groups (uti and soto) and how these relations dictate the way people speak to each other. I may be jumping to conclusions, but I truly felt that for the short time I stayed with my host families, I was also a member of their family. Wherever we went, either dining out in restaurants, visiting museums and temples, or even amongst the chaos of packed commuter trains, my host families took extremely good care of me and were always available whenever I needed help. For this reason, I treasure my homestay experience, as it was a unique once in a lifetime opportunity, a chance to connect with the dreams, goals, and daily life of people in Japan. Now that I have had a glimpse of the depth of Japanese culture, when I go back it will be difficult not to want to look even deeper.
---
@Previous Reports
---
So now it's your turn to enhance your cultural experience in Japan with PPF!
Join our program now and explore Japan!