@PPF Internet Homestay Report (October 2001)
Following is a report from Ms. Thau, who experienced the PPF homestay program in Summer 2001.
---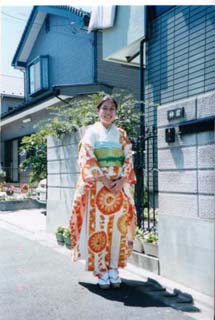 This summer I went on the PPF Homestay program for two weeks. It was the best cultural and educational experience of my life so far. The first week, I stayed in Tokyo with the Kamimae Family. The father along with his youngest daughter Tamami came to the airport to pick me up. The train ride was 4hours. They prepared a lot of food for me because thinking since I was coming from the United States, I would be a big person. In their family there were two other daughters who were about the same age as me. Every meal, the mother cooked delicious Japanese food. I also had sushi, sashimi, a lot of fish, soba, yakisoba, and much more. She even taught me how to make Okonomiyaki, which is now my favorite Japanese food when eaten with Tonkatsu sauce. The family went sight seeing with me too the Imperial palace, Akihabara, Shibuya, Sunshine City (the high towers) in Ikebokuru, and other places as well. They were extremely nice and patient with me while I was there. The mother was very kind and let me try on her kimonos and take pictures in them. I even went to the Tokyo supermarkets and library. Everything in Japan is cute and comes in a small package. In Tokyo, the host family taught me a lot of Japanese words, customs, and culture. The transportation is wonderful but also very confusing since there are so many options. My host family parents came with me to take the bullet train to see me off to Kyoto. And on my way back from Kyoto to the Narita Airport, they met me again to make sure I got on the right train.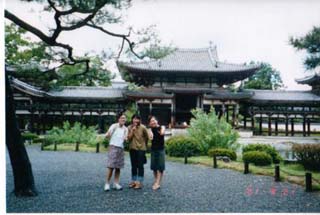 When I first got into Kyoto, there was a typhoon. So the first day, we were not able to go out, watched a movie, and went bowling. Kyoto was beautiful and it was here I saw the old temples and shrines. But the following days the weather cleared up so everyday we visited about 3 different temples. So total, we visited about 12 different famous tourist spots including the Nijo Castle, Sanjusangendo, Kiyomizu temple, and more. In Kyoto, I ate sushi, tempura, takoyaki, green tea ice cream and more. I tried different types of green tea and they varied from sweet to bitter and hot to cold. I preferred the cold and sweeter ones. I bought a summer kimono (ukata) and a lot of souvenirs for family, my friends, and myself. I also learned in Kyoto that they use different words than the people in Tokyo. At first it was hard to adjust to but eventually learned the dialect.
I was really lucky to have had two host families in both Tokyo and Kyoto. I felt that the two cities and host families were quite different and offered me the opportunity to see the modern and cultural side of Japan. Thank you for this opportunity and I really believe that if any other student has this great chance to go to Japan through the PPF Homestay program, they should definitely apply for it.

---
@Previous Reports
---
So now it's your turn to enhance your cultural experience in Japan with PPF!
Join our program now and explore Japan!