@PPF Internet Homestay Report (July 2006)
Following is a report from Ms. Cindy, who experienced the PPF homestay program in July 2006.
---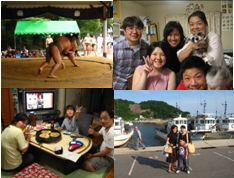 This summer, my experience in Japan taught me a lot about Japanese culture, history, language, and most importantly―life. In the four weeks I was in Japan, I stayed with host families in Nagoya, Osaka, and Chiba, where I had many first experiences of my life. I saw various Japanese shrines and castles, ate horse meat and fugu (blowfish), fed deer in Nara park, watched sumo-wrestling contests, made bread, took Japanese baths, and even got a Japanese-style digital perm. During the day, I wandered around to visit the tourist destinations, shopped around, ate food and observed the Japanese locales. At night with my host families, we talked about everything: marriage and families, politics, education, work, food, clothing, travel, and language.
My first stop was in Nagoya. My host family was extremely kind, and showed me the ways of Japanese life. I saw sumo wrestlers at Atsuta Shrine, and my host grandmother brought me to a traditional Japanese town, where we went to a renowned kimono shop and ate at a famous udon shop. Because it was the month before July, the month of the traditional Japanese bon festival, I got to go along with my host mother to her bon dance practice with the women in her community. There, with a roomful of 150 Japanese women, I found myself completely immersed in the Japanese language, culture, and tradition. In Gifu, on a boat at sunset, I also saw the beautiful 1,300-year tradition of Ukai, where fishermen used ten to twelve cormorant birds on a leash to fetch sweetfish.
In addition to the cultural traditions, however, I also learned much about modern Japanese society. After dinner, my host family and I would sit down in the living room to talk about relationships, education systems, and the World Cup that was constantly broadcasting on TV―thus leading to the topic of popular sports in Japan. My host mother told me about Japanese customs and how to act or speak in various situations. We also discussed the role of women in modern society, highlighting the tensions between traditional roles and the more independent individuals today. Finally, to further enhance my integration into the local culture, I did what every Japanese girl likes to do: I got a digital perm!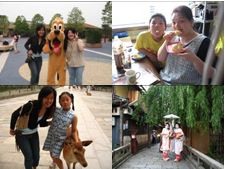 Osaka, my second stop, was also very fun. Because Osaka is located in the Kansai region, I was able to make day trips to Nara, Kobe, and Kyoto, as well as tour the city centers of Osaka. In Kobe, I visited the Kitano-cho, the district containing many former mansions of Western residents, as well as Kobe Port Tower and Harborland. Though Kobe is a very small city, I found it very lively and bustling with energy. The next day, I went with my host family to Nara to visit Todaiji Temple in Nara Park. To my surprise, Nara Park had many deer roaming around, which would come up to us in hopes of getting fed the deer senbei that we bought from the vendors. Next, in Kyoto, I saw various fresh foods and fish in Nishiki Market, and proceeded to complete my afternoon in Gion, the traditional geisha city. I even got to see two geisha!
Finally, my last week in Japan led me to Chiba. My host mother is a great cook and taught me how to make various Japanese dishes, as well as bread. Because I love to eat Japanese melon bread, my host mother and I spent one Friday morning baking the bread from scratch. It was delicious! My host father is in the wedding business, and as I'm considering becoming a wedding planner in the future, he told me a lot about the way Japanese weddings work, and even allowed me to shadow him for a day. Whereas the children in Nagoya and Osaka were much younger than me, my Chiba host siblings were much closer to my age, particularly the older one, Nana, at age 16. As a result, we quickly became friends, and she taught me lessons on pop culture, music, and so on. On the day before my departure back to Hong Kong, we even went to Disney Sea together, then went home and watched Phantom of the Opera until four in the morning!

My main objective when applying to PPF and planning my trip to Japan was to learn about Japanese culture and the ways of its people, as well as to improve my speaking skills. Needless to say, I accomplished both, and more. While I have much more to learn, this homestay experience opened my eyes to the world of the Japanese. To my host families who taught me so much and gave me a very special, up close and personal experience that I'll never forget, a million domoarigatous.
---
@Previous Reports
---
So now it's your turn to enhance your cultural experience in Japan with PPF!
Join our program now and explore Japan!