@What's NEW from PPF
Following is a report from Ms. Hsu, who experienced the PPF homestay program in Summer 2004.
---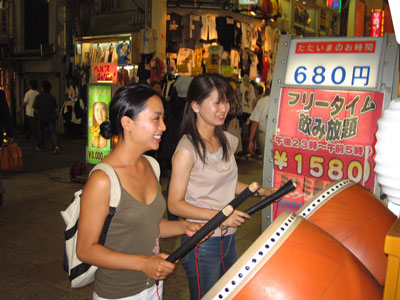 The 4-week PPF-UCB Homestay Program in July 2004 was an extremely personal experience for me. I had recently graduated from UC Berkeley with a double major in Art History and Italian Studies, but had only studied the Japanese language for one year. The language barrier was extremely difficult to overcome (it is NOT advisable for students having only Japanese 1A-B background), and because the host families were so compassionate, warm, and hospitable, the worst feeling was not being able to express all the gratitude in my heart. So to my host families, DOMO ARIGATOGOZAIMASHITA!
My first host family, the Ooigawas, were extremely accomplished, and, fortunately for me, spoke incredible English. The most incredible thing was that I looked very much like their eight-year-old daughter Yui-chan, and when we all went around Tokyo together, people would think we were just one family! I couldnユt decide if that was a good thing or not, because it made it very difficult for people to realize I was really a foreigner and understood very little Japanese! The Ooigawas had me try some of the most delicious or interesting Japanese cuisine ever: monja (cook-it-yourself food on a metal grill), takoyaki (octopus balls), izakaya in Roppongi (yakitori in a traditional Japanese setting), order-home pizza with mayonnaise and curry toppings. Yes, very weird.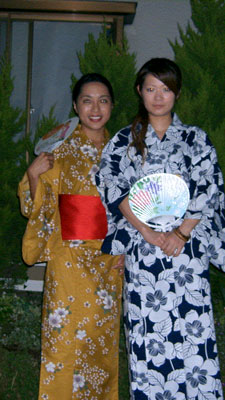 The second host family, the Obinatas, in Azusabashi (outside Matsumoto) were very lively and helped improve my Japanese a great deal. It was such a shock to discover that your host parents spoke Spanish and could prepare delicious paella complete with Spanish wine. So we ended up speaking a very interesting mix of English/Spanish/Japanese! Iユm sure the grandma, who only understood Japanese, found it very amusing. The Obinatas also helped me dress up in a yukata (a summer kimono) and even gave one to me as an omiyage .
Fortunately, with the third family in Kyoto, we developed a new system of communication: we just found it easier at write kanji to each other since I am Chinese. The Okumura couple were young, and it felt more like I was spending time with an older sister then staying with a family. It was really fun to play taiko (Japanese drums) in an Osaka arcade and take pulicula (sticker pictures). They were also able to take a road trip with me to Himeji, and it really was an art historianユs dream come true. Toward the end of the homestay, I had unfortunately gotten a fever because of the typhoon season; however, it was also helped me discover hiya pita (a cooling medicated patch that sticks to the forehead) and miso soup with karashi, which the Okumuras thought was the weirdest thing in the world.
The PPF-UCB Homestay has offered me not only lasting friendships with these three families, but also a profound understanding of my own family, which had been heavily influenced under Japanese culture in Taiwan. I now understand why my grandmother always put on makeup to go out in public and said, メyoishyoモ when going down the stairs, or why my mother is so extremely punctual. The PPF experience is invaluable, and I encourage anyone who has the opportunity to take part in this program to do so.
Watashiwa nihongo wo motto benkyou shiyouto chikaimashita!
---
@Previous Reports
---
So now it's your turn to enhance your cultural experience in Japan with PPF!
Join our program now and explore Japan!