@PPF Internet Homestay Report (August 2005)
Following is a report from Ms. Cindy, who experienced the PPF homestay program in August 2005.
---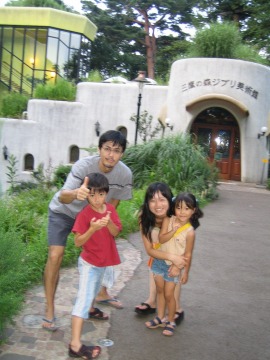 The 4-week PPF-UCB Homestay Program in August 2005 was more than I could have asked for. Thanks to PPF, I was able to experience Japanese culture first-handedly (after having watched so many Japanese anime and drama), and meet wonderful host families from whom I learned many valuable life lessons.
My first host family, the Tsutsumis, lived in the suburbs of Osaka. The Tsutsumi family treated me to the Universal Studios of Japan (which was probably a close replica of the one in Los Angeles), the Himeji-Jo, one of the most beautiful and well-preserved Japanese castles that survived the bombings during WWII, and the well-famed Arima Onsen in Kobe. The Onsen (public bathhouse) was perhaps the most remarkable experience I have had in Japan, and I encourage anyone travelling to Japan to pay at least one visit. I also watched the Tsutsumi children engage in Kendo pracitces − a traditional Japanese sport displaying great power and agility. It was really fun making takoyaki (Japanese dumpling made of batter and octopus) and tiramisu with the family as well.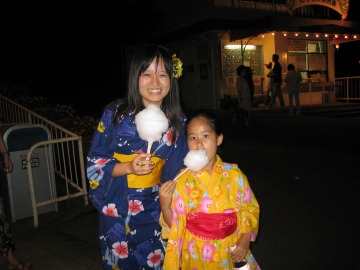 With the second family, the Oyakes, I visited several museums including Ghiburi, which hosts animation director Hayao Miyazaki, and the Shin-Yokohama Ramen Museum, in which I tried a wide variety of regional ramen tastes. We also went to kareoke, kaiten-zushi, and Asakusa temples together. Since the Oyake couple had spent some years volunteering in the Vanuatu Islands during their younger years, we discussed fervently about the joy of travelling overseas and lessons we have learned from it. Being a dancer myself, I was extremely delighted to know that the Oyake grandmother had a passion for ballroom dancing, and that her pursuit of it did not begin after age sixty! She was such an inspiration for me.
Due to the Obon festival (a time when Japanese families mourn for the dead in temples and graveyards), I travelled with the Ooigawa family from Tokyo to Hitachi. My experiences ranged from kneeling at the temple listening to the recitations of the monk to watching beautiful firework displays while enjoying dinner at the top of a hotel. With the nine-year-old daughter of the family, I played Japanese yo-yos (a waterballon fastened with a rubber band on its end), went on rides wearing yukata (Japanese summer kimono), and watched with amazment how the girl can ride on a unicycle with great ease. The host father was also kind enough to teach me some basic golf.
The PPF program not only broadened my perspectives beyond the college setting at Berkeley but also helped me rethink the possibilities of post-graduation plans. Through interacting with host families I have come to appreciate the diversity by which people can enjoy their lives. These life lessons added another dimesion to the cultural exchange that I did not initially expect. I am so blessed to have met such wonderful host families, whose hospitality I wish one day I may return! Thank you PPF for making these all possible!
---
@Previous Reports
---
So now it's your turn to enhance your cultural experience in Japan with PPF!
Join our program now and explore Japan!