@What's NEW from PPF
Following is a report from Mr. Tullis, who experienced the PPF homestay program in Summer 2003.
---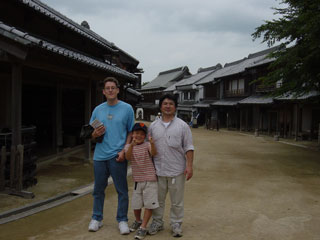 Thanks to PPF, I was able to spend three weeks with two hostfamilies in the greater Tokyo area in June 2003. I count the trip among the most rewarding and meaningful experiences of my life. Of course, after two years of Japanese classes and a lifelong fascination with Japanese culture, it was a thrill for me just to be able to see Japan firsthand, but the PPF program added another dimension in that I was able to live with two extremely warm and generous families and form what I'm sure will be lifelong friendships. More so than tourism, I enjoyed simply talking about world events with my hostfamilies, laughing together at Japanese TV shows, chatting over dinner, and so on. The Ohazamas and Oyakes fielded my never-ending stream of questions about Japan, and I shared my own perception of America.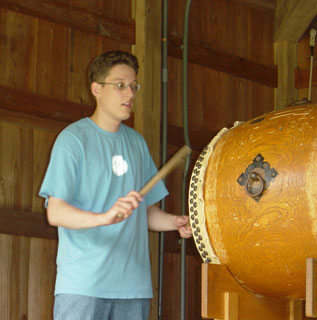 In those three weeks, I had so many interesting experiences (most of them new) that I can hardly remember all of them at once. I saw various faces of Japan, from Nikko to Yokohama to Matsushima to Akihabara (where I want to live someday!) I tried gyuutan (beef tongue), kaiten-zushi (conveyor belt sushi), eel, shabu shabu, and a bentou box, the contents of which are still a mystery to me. I learned how to play shogi, how to survive a crowded Tokyo subway, and why one doesn't drain the tub when one is finished using it. I played Taiko no Tatsujin (a drum game) with the eight-year-old son of the Ohazamas and countless beach ball games with the four-year-old son and two-year-old daughter of the Oyakes. In all of my everyday dealings, I spoke Japanese to the best of my ability, and I noticed a difference in my ability at the end of the three weeks.

I'm probably not a typical PPF participant - I'm a 23-year-old graduate student in environmental science who hopes to be able to attend conferences and share ideas in Japan - but the experience was amazing for me on both academic and personal levels, and I highly recommend it even if you're not a Japanese major or an undergraduate. Thanks again to PPF and to the Ohazama and Oyake families for making it all possible.
---
@Previous Reports
---
So now it's your turn to enhance your cultural experience in Japan with PPF!
Join our program now and explore Japan!