@PPF Internet Homestay Report (December 2009-January 2010)
Following is a report from Ms. Yong Fei Li, who experienced the PPF homestay program from December 2009 to January 2010.
---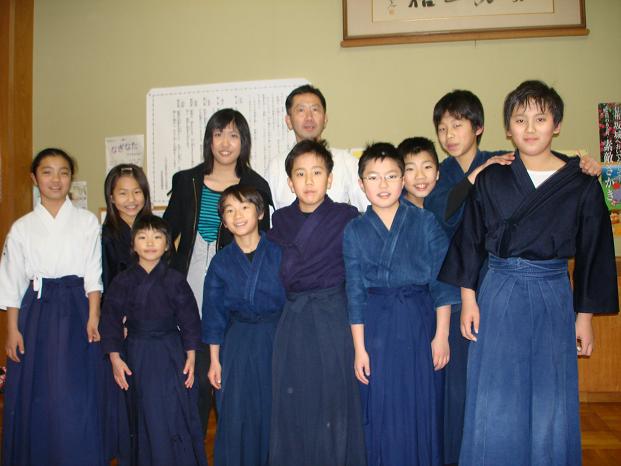 My four-week-long home stay in Japan during December 2009 and January 2010 was a wonderful experience. During my trip, I met four wonderful host families, learning Japanese language and culture from them. And more importantly, I have developed long lasting friendships with my host families.
 My first host family is the Futakatas in Kitaibaraki-shi, Ibaraki-ken, which is a small town in the Kanto region. Although I have learned Japanese for about two years in UC Berkeley, I was aware that I was still far from fluent. Thus I was nervous in the beginning about communicating with my host families. However, the Futakatas were very accommodating and I tried to communicate with them as much as I could in Japanese. Mrs. Futakata taught me a lot about Japanese culture and manners. She also took me to her company's end-of-the-year party, hot spring, as well as Mito-shi, the capital of Ibaraki-ken. It was my first time going to a hot spring and I felt interesting and relaxed.
 I travelled from Kitaibaraki-shi to Okazaki-shi, Aichi-ken and met my second host family, the Onos. They guided and supported me to make daily trips to Nagoya, Yokohama, and Hakone during daytimeI was able to see the Mount Fuji, which I have dreamed about visiting since a long time ago. Every evening, I talked with Ono's family about life-style, cuisine, pop-culture, etc. We have many common interests and soon I felt like we have known each others for a long time. Although I stayed in their family for only four days, the time we spent together would be an unforgettable memory in my brain.
 My third stop was in Saikai-shi, Osaka and my host family was the Tsutsumi family. I made day trips to Kyoto, Nara, Kobe, and Osaka city. I was able to visit many temples and shrines, exploring Japanese ancient architectures and traditions. Also, since I lived with the Tsutsumi family during the New Year's Day, I got the chance to experience the Japanese way of celebrating the New Year. I went to the temple with the Tsutsumi family, making a wish for the New Year. I also had the Japanese traditional meals for New Year with them, tasted Macha, and had kimono dressed. It was really interesting and enjoyable for me to have such a special New Year, and I was also impressed by their family life at home.
 Leaving Osaka, I travelled to Nagano and met my last host family, the Itos. Mr. and Mrs. Ito picked me up in the Nagano station and then took me to Zenkouji, the most famous temple in Nagano city, before returning back home. Their home is in a small town near Nagano city called Chikuma-shi. During my stay, I travelled a lot with Mr. and Mrs. Ito, For example, they took me to the famous Matsumoto Castle, a famous ancient battle field, and some other scenic spots of historical significance. They also treated me to the sushi bar and noodle restaurant, where I tasted the typical Japanese cuisine.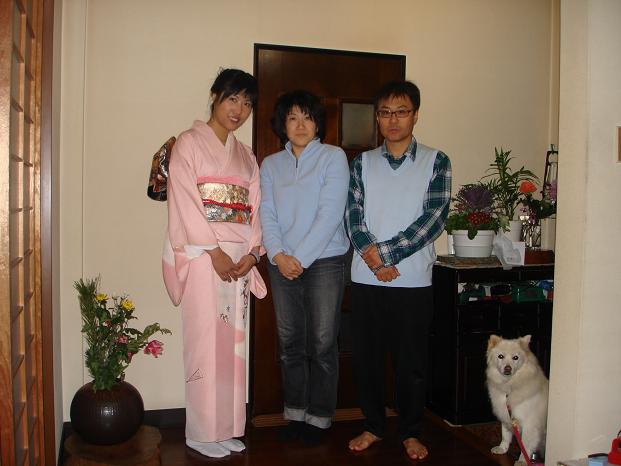 Besides travelling, Mrs. Ito arranged for me to experience many different aspects of Japanese culture. She brought me to her Kumon cram-school class, where I had a chance to talk with her students and shared our experiences of studying, as well as the different school systems in both Japan and the United States. Another evening, she bought me to see Taiko club practice session. Mrs. Ito also taught me to cook some Japanese cuisine and let me practice calligraphy. My favorite experience was that Mrs. Ito introduced me to a Kendo class, where I was taught the three basic moves and had a chance try out a few practice matches. And in the end the Kendo teacher even took out his real sward and let me tried practicing the moves with it.
 I am very thankful to the PPF and my four host families. We were like real family members while living, travelling, and talking together. From my home stay, I was able to experience Japanese customs and culture, help in pioneering my vision of becoming a person more aware of the world. And I have gained the courage and confidence to meet new challenges and create new ideas with my concentration and awareness.

---
@Previous Reports
---
So now it's your turn to enhance your cultural experience in Japan with PPF!
Join our program now and explore Japan!