@PPF Internet Homestay Report (March 2007)
Following is a report from Ms. Patrycja, who experienced the PPF homestay program in March 2007.
---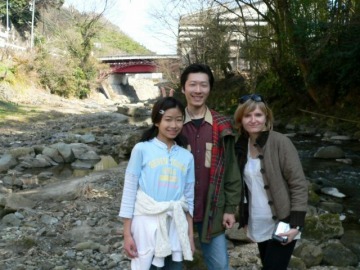 The four-week-long PPF Homestay Programme that I took part in in February/March 2007 has been a great experience for me. I managed not only to immerse in the Japanese language natural, conversational situations but also, what is more important to me, created some strong and, I hope, lasting bonds with the host families that I stayed with. I'm a four year student at the Poznan University in Poland. My major is Ethnolinguistics, where I studied Japanese as a specialization language.
Although I've been previously in Japan, this stay turned out to be totally exceptional. The reason why is that I' ve always wanted to experience Japanese culture, customs and make friends with the Japanese. The Homestay Programme precisely met my expectations in that respect.
I must admit though that it has been the first experience of that kind for me so I felt a bit confused at the beginning as I didn't want to cause any trobule and didn't quite know how to behave in at that point still unfamiliar surrounding.
However the first family from Okazaki-shi near Nagoya, the Onos, were very kind and supportive. After one day spent together I started to feel as if I known them for years. It turned out that we really have many things in common. One is that the family is into organic diet and I'm a vegetarian so I could study about Japanese cuisine and cooking, the knowledge that I'm putting into practice here back in Poland.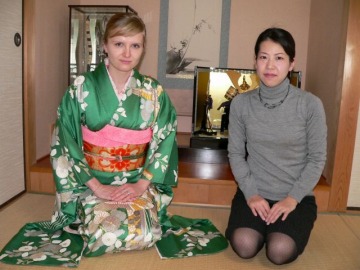 The second family, the Kuwanos (Okagaki-machi, Fukuoka-ken), were lively and hospitable. Our schedule was so intense and interesting that I barely had time to think;) I had beautiful kimono dressed, made pottery, kneaded soba, participated in the Tea Ceremony and Japanese dance classes and finally was given a breathtaking wedding kimono by one extremely nice lady. I had some luck during that stay but at that point Satomi-san said that I'm 'higorono okonaiga ii hito' and indeed I was! Satomi-san put on a great effort to introduce me with Japanese culture and customs.
In Nakatsu-shi, Kyushu, where I stayed at the third family's, Somiyas', place there was also no time for boredom. I had an opportunity to do Ikebana, wore gorgeous kimono and took part in the Tea Ceremony as 'otemae'. We also traveled a lot. Somiya-san, but also other host families, asked me lots of questions about Poland and Polish culture. I was really happy to see a lively interest and share my knowledge to satisfy their hunger for it.
Thanks to the participation in the programme I managed to improve my Japanese a lot. Although some misunderstandings or communication problems happened at times, I always fought to communicate in Japanese. However the moment that I dramatically lacked words was when I wanted to express my gratitude to the host families. That's why now I'd like to say great ARIGATO GOZAIMASHITA! that flows from the bottom of my heart.
The programme also gave me a stimulus to study the language and the culture even more eagerly, which will be a lot easier with the help of my new Japanese friends.

---
@Previous Reports
---
So now it's your turn to enhance your cultural experience in Japan with PPF!
Join our program now and explore Japan!