@PPF Internet Homestay Report (July 2007)
Following is a report from Ms. Minh Uyen Le, who experienced the PPF homestay program in July 2007.
---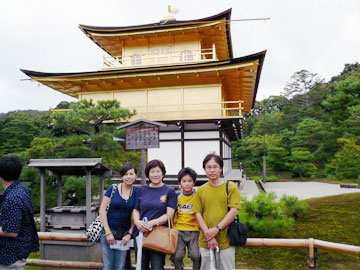 I went to Japan on the homestay program from June 24 to July 22. The experience surpassed my expectations as both a visitor and a student studying the Japanese language. After having taken two years of the language, I decided to sign up for this program because I believed that the experience would both aid my future studies and add to my understanding of Japanese culture. I embarked on my journey nervous, excited, and a little afraid.
My first hostfamily lived in Hachiouji-shi, a little town part of Tokyo. I arrived there on a rainy day and felt as though I had made a mistake coming to a foreign country on my own. However, once I met the Hirata family and settled in, I began to feel that everything would turn out fine. They made me feel at home and eased my worries tremendously. During my stay in Tokyo, I learned to use the trains for transportation and feel more comfortable when speaking the language. Because Mrs. Hirata had to take care of her two young children while her husband was busy at work, I mainly had to travel on my own and see the city. Luckily, a Taiwanese student was staying at the Hirata's the same time I came to Tokyo. Thus, we went about sightseeing together while we attempted to communicate through Japanese. I had a great time seeing Tokyo Bay, shopping in Harajuku, and even going to the famous Ueno Zoo. The Hirata family made sure I had maps and brochures to understand where and how to get to all these places. Their little children Yui and Kota were adorable and I loved how they told me dinner was ready. I had a great time staying with the Hirata family because they showed me not only hospitality but also the basic family life in Japan. They also kindly gave me a beautiful yukata as a gift to make sure I have a little piece of Japanese culture to take back with me. Right before I had to leave, Mrs. Hirata helped me purchase my ticket to continue on with my journey towards Gifu.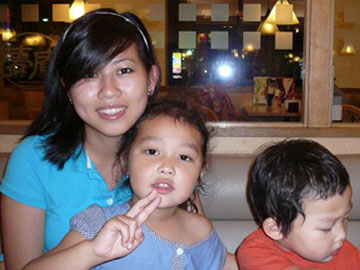 My second hostfamily lived amidst rice fields and little bridges in Oogaki City in Gifu. If I experienced the "city life" in Tokyo with my first hostfamily, then I experienced the traditional culture of Japan with the Kudomi family. They were completely different than the Hirata family because within my second hostfamily, all the members lived separately. However, I felt truly welcomed because they all attempted to come together on my part despite their busy schedules. I also received many souvenirs such as an authentic obi as gifts from Kudomi san. I was and still am extremely grateful to the Kudomi family. Kudomi san along with her daughter Miwa san took me to the festivals, a tea ceremony, and even the public bathhouse. I got to wear my yukata and go to an Obon which is a festival where people dance together and celebrate the spirits of the deceased. I even got a chance to try on the family's beautiful kimonos. I also got to visit one of the oldest castles in Japan and taste great food. Kudomi san also taught me many recipes for Japanese dishes. I had a great time learning and truly experiencing the Japanese culture with the Kudomi family.
My third hostfamily lives in Sakai-shi Osaka. The Tsutsumi family was extremely friendly and I felt as though I was part of their family. I had a great time going to Kyoto with the family and then to Nara with Mrs. Tsutsumi's sister and niece. I even got to feed deers osenbei in Nara. I also got to meet obaa san who gave me a shaved ice machine. Moreover, the Tsutsumi family also brought me to many great tasting restaurants so I could taste the delicious food of Osaka. I learned to make takoyaki and tasted obentos made for me by Mrs. Tsutsumi. I am truly grateful to her and her family because I learned what it takes to live in Japan and how busy a Japanese woman truly is. Words cannot describe my experience so I ask all to take the opportunity despite the worries to learn culture firsthand through this homestay program.
Finally and most importantly, I want to thank all my hostfamilies and their family and friends for all their kindness and hospitality. Domo arigatou gozaimashita! I am truly grateful for the opportunity to make these lifelong friendships. Once again, hontou ni arigatou gozaimashita!

---
@Previous Reports
---
So now it's your turn to enhance your cultural experience in Japan with PPF!
Join our program now and explore Japan!