@PPF Internet Homestay Report (July 2003)
Following is a report from Ms. Carrer, who experienced the PPF homestay program in Fall 2002.
---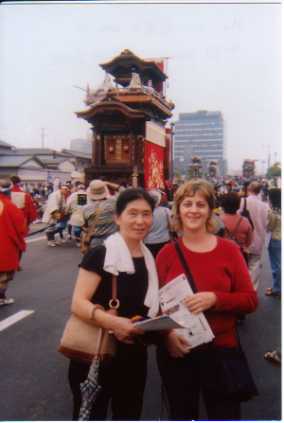 During October 2002 I had the great opportunity of experiencing home-stay in a Japanese family for two weeks, thanks to the precious help of Pan Pacific Foundation.
My name is Elisa Carrer and I'm an Italian girl studying Japanese language and literature in Venice University, so what a better chance for me to get inside the Japanese culture than this?
I arrived on a cloudy, hot day in October at Tokyo International Airport and I immediately caught the train to Nagoya.
The family I was going to stay with actually lives in a little town called Koshoku near Nagano, but before I left for Japan, my "Japanese mum," as I used to call her, invited me to see a wonderful festival in Handa, near Nagoya.
In fact, her husband works in Nagoya and so, for the first three days we have been driving around all the sights of that area. Emiko and Satoru have been extremely kind to me, making me feel as if I were one of their children, even on the first several days when I still could not understand them very well.
One way to learn a language is through books, and another way is by practicing it and living with people who speak that language. This is why I considered home-stay the best experience to learn the language.
Then on the 8th of October, Emiko and I came back to her own village and I finally knew the other members of the family: Rika, her daughter, Kengo, her son, both are about my age, and obachan Fumi, who is Emikoユs mother.
As her house was in front of rice crops, and Emiko's mother is a farmer, I also happened to see the rural parts of Japan, and it's been an unusual experience compared to the cities I visited after my home-stay, like Tokyo and Kyoto.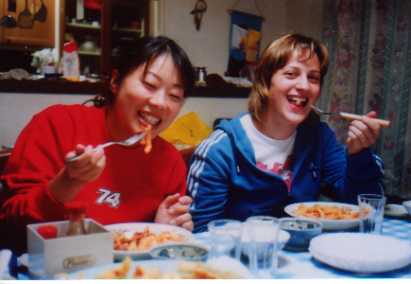 With Emiko I learned a lot about Japanese food and the way to prepare it, especially those wonderful "Harumaki" (spring-rolls) we made together! She taught me Origami and traditional calligraphy, which were simply unforgettable...
Then, since she works as a private teacher after school, she made me meet her children and explain them about my county: this has been very useful to begin to practice with long speeches in Japanese, and the kids were so funny and curious!
I have spent those two weeks visiting gorgeous temples in Nagano and Matsuri (traditional festivals) around there. I also had the chance to talk to a Zen monk in Sakaki, and visit the studio of a lithographer, Hitoshi Mori, who always lives in Sakaki. As I am very keen on Japanese art, she also made me see the Hokusai International Center in Obuse. All experiences were so special that I would have never experienced if I had been a tourist, and therefore I will be eternally grateful to PPF.
I absolutely advice people who want to go to study Japanese language, understand Japanse "Kokoro" and make new friends to apply for it!
Big greetings to my Japanese family!
---
@Previous Reports
---
So now it's your turn to enhance your cultural experience in Japan with PPF!
Join our program now and explore Japan!