@PPF Internet Homestay Report (August 2006)
Following is a report from Ms. Madeline, who experienced the PPF homestay program in August 2006.
---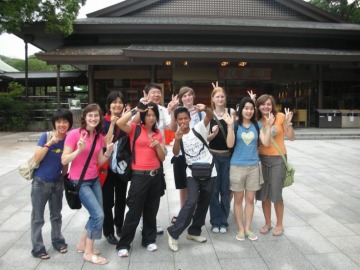 My trip to Japan in July/August of 2006, which was organised and funded by PPF, was one of the most wonderful experiences of my life. There are many reasons why this is so. In Japan, I met some very generous Japanese people, made life-long friends, improved my Japanese language skills, and further confirmed my desire to pursue learning Japanese.
My two host family experiences, organised by PPF, were very different from each other, yet both were very enjoyable. My first host family and I became like a real family. We also became great friends. We stayed up late every evening, talking in Japanese about our respective beliefs and opinions, values, life-styles…everything! Those conversations will forever remain wonderful memories. This host family was deeply committed to helping me expand my Japanese language skills, and knowledge of Japanese culture. For me, I believe that this is one of the most important qualities one can find in a host family, and I am therefore very thankful that I was given the chance to stay with this family.
My second host family had children and lived a very different lifesyle from my first family. This was an opportunity for me to gain an insight into the differences in daily living of people within Japan. I spoke with this family about some of my personal goals for my time in Japan, and they then helped me to achieve these aims. This family gave me the freedom to explore surrounding cities, and visit areas of personal interest, and guided and supported me in these travels.
In addition to my host-family experiences, whilst I was in Japan I also had the opportunity to assist the staff of the Japanese Speech Award, in their 10th annual speech competition. Having been the JSA Australian student representative in 2005, I was delighted to be given the chance to make a further contribution to the program.
I would also like to thank PPF for allowing me to spend time in Japan, with my host family from a trip I took to Japan in 2004. This experience enabled me to further strengthen my relationship with this host family, a family who I believe I will forever be friends with.
My chief goals for my trip to Japan with PPF in 2006 were: to speak Japanese constantly, and to improve my Japanese language skills and knowledge of Japanese culture. I believe that I achieved these goals during my time in Japan, thanks to PPF. During my stay, I gained enough confidence to speak Japanese without hesitation, confusion or great difficulty. I began to think in Japanese! This was a very fulfilling and rewarding realization!
The trip to Japan also assisted me in my Japanese study. Next year I will continue this study, undertaking Advanced Japanese at The University of Melbourne, in Australia. I also intend to use my Japanese skills in my future employment, after I complete university. In the future I hope to work to further develop Japanese-Australian relations, partly through encouraging cross-cultural exchange. I would most certainly be interested in being involved in PPF or some such program again, in whatever way possible.
Japan, and Japanese, have become more than a hobby or interest of mine. They have become a major part of my life. Finally, I would like to express the greatest of thanks to PPF. I will never forget the time I spent in Japan!
---
@Previous Reports
---
So now it's your turn to enhance your cultural experience in Japan with PPF!
Join our program now and explore Japan!