@PPF Internet Homestay Report (August 2006)
Following is a report from Ms.Chencan, who experienced the PPF homestay program in Summer 2006.
---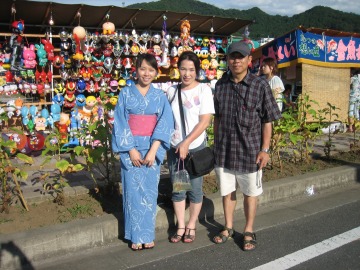 I went to Japan with a lot of my own thoughts about it. I was going for the shrines, Jinja's, traditional festivals, Japanese daily traditions. I know I would like them. I have seen them on television programs. I have read about them on books. Yet, I was amazed, not only by ancient architectures, respectful traditions, but also by the people I met. It was them who showed me what real Japanese cultures are. It was their kindness and love for their own culture and traditions made me realize what I really love about Japan.
I spent the first 12 days of my trip around Tokyo. My host family Ooigawa family lives in Urayasu, the Disney town. At the day I arrived at Narita Airport, Mr. and Mrs. Ooigawa and their lovely daughter Yuyi came to the airport to pick me up. The fourth member of the family, Maru, a female Dachshund, was waiting for me at home. They live in a very lovely place. Their apartment has an extremely good ocean view. I always liked to go to the balcony and enjoyed the breeze came from sea. The next day of my arrival, I boarded a cruise with the Ooigawa family. It was their friend's cruise and we went cruising for a while in the Tokyo bay after having barbecue on the harbor. There are three families on board and everyone was warm to me. They also told me a lot about the next two places I was going to stay. It was the first time in my life to listen to and speak Japanese all day long. The intensive Japanese environment gave me a very strange but interesting experience. Sometimes there were things that I did not know how to say in Japanese. But as a Chinese, it was quite convenient to use Kanji. 99% of the time, the person I was talking to will know right away what I wanted to say. The other 1%, since Mr. and Mrs. Ooigawa speak very good English, they would always help me. It was a quite special day. I had a great time and I feel like I would never forget the feeling of happiness on that cruise.
During my stay in Urayasu, I went to Tokyo almost every weekday. Odaiba, Shinjuku, Harajuku, Akihabara, Tokyo tower, Ginza, Omotesando, Shibuya, Tokyo University, Yoyoki, Ikebukuro, Tsukichi market. I almost went everywhere in central Tokyo. Even the Ooigawa's were impressed with the number of places I had been. It was happily tiring but exciting.
On the twelfth day, I said goodbye to the Ooigawa family and headed for Oita, Kyushu. After spending 6 hours on Shinkansen, I arrived at Nakatsu, Oita. Nakatsu was completely different from Tokyo. First, it was much hotter here. Second, the entire city was flat. No skyscrapers, no fancy buildings. It was a quiet peaceful little town. My second host family, the Somiya family, lives very close to the train station, hence very convenient to go to other places by train. Mr. and Mrs. Somiya live with their second son, Daisuke. Daisuke is a little older than I am and already has a job. It was the first time the Somiya family had been a host family. But they were extremely kind and planned everything well for me. Mr. Somiya even made a guide book showing where was worth going on his own before I arrived. Due to the weather, I only managed to go to Hakata and Beppu on my own on weekdays. But thanks to Mr. and Mrs. Somiya, my weekend there was extremely busy and exciting. We went to Flower Park, where every scene was like an articulated drawn picture. We also went to Aso Mountain, the famous living volcano in Kyushu. The Somiya's also took me to Gion Festival held by a nearby town. I was amazed that almost everyone in town was participating in the festival, either by performing or by watching. Businesses were closed and everyone gathered in central town to celebrate the festival. We had an extremely difficult time finding a place to eat for this reason. In the evening of that day, the entire family, including me, went to a hot spring. It was my first time went into a hot spring. Japanese have a special way of going into hot springs. I found it a little wired but interesting. We had a great time over dinner. Daisuke kept telling jokes. The Somiya's really made me feel being part of the family. The next day, despite the high gas price and toll fee, Mr. and Mrs. Somiya again drove me to another nearby town, where there will be fireworks display. Mrs. Somiya was also kind enough to lend me her Yukata and helped me dressed up. This firework was the biggest in Oita, so there were even more people than the Gion Festival the day before. Although crowded, the firework was great. Watching fireworks while wearing Yukata makes me feel like Japanese. Suddenly I feel so touched. How nice of the Somiya's to give me such an authentic experience!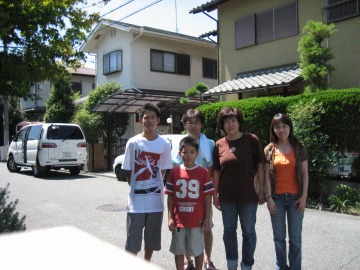 I was even more touched when I realized that Mr. Somiya gave up his three day weekend just to be able to drive me to another famous hot spring town on the last day of my stay. On the last day, Mrs. Somiya also returned home early and we cooked Takoyaki at home. It was the first time I cooked Takoyaki. Fortunately, it went pretty well. Takoyaki was delicious. The Somiya's was doing everything they can to left me with good memories.
I was once more impressed by Shinkansen. I set off at 10 in the morning and I was in Osaka city by 2 in the afternoon. My third host family was the Tsutsumi family. They live in Sakkai city. Mrs. Tsutsumi and his youngest son, 8-year-old Yutai came to the train station to pick me up. Before going back home, Mrs. Tsutsumi took me to an Emperor's Tomb. And we also had Macha there. She said it was the welcoming present. It was my first time to taste real Macha. It was bitter but tastes great. Going back home, I met Mr. Tsutsumi, oldest son Hutoshi, and third son Humito. This time it was a Japanese style house. And I was able to sleep in a Tatami room. It felt a little bit surreal since I was physically in a room that I have only seen on TV dramas or animations. The next day, Mr. and Mrs. Tsutsumi, Yutai and I went to Kyoto, where a lot of ancient architectures and traditions were well preserved. Ryo An temple, Kin Gaku temple and Kyomizu temple are all world famous. Being in Kyoto was very different from being in Osaka. Kyoto was quite and elegant while Osaka was very much alive and modern. It was said that near Kyomizu Temple there will sometimes be Geishas and Maiko's walking in the streets. Unfortunately I did not see one myself, although I did go to a studio and try to be one. There were also a lot of Shrines in Kyoto. However I was not able to go to a lot of them due to time constraints. I went to Nara alone and also spent a few days in Osaka city. The thing I enjoyed most while I stayed with the Tsutsumi family was the "family life" at home. Since I do not have any sisters or brothers myself, I hardly know what it feels like to have one. The Tsutsumi family gave me the experience of being with a large family. We had a great time go watching movies together, having dinner together, and sometimes just being at home together. It was a family full of energy. Although I only stayed there for 5 days, I felt I experienced a lot.
The best part of this home stay program is that I got to stay at three very different places, Kanto, Kyushu, and Kansai. A lot of customs were different, environment was different, even accent was different. I was not only able to experience Japanese culture which is different from Chinese or the U.S. culture, but also I was able to experience different Japanese cultures. It helped me a lot both culture-wise and language-wise. And my host families were so nice that I was able to have great experiences and memories. They are the persons who showed me the real Japanese culture. To me, they are the real attractions of Japan. It was a summer I would never forget.
---
@Previous Reports
---
So now it's your turn to enhance your cultural experience in Japan with PPF!
Join our program now and explore Japan!